STEPHEN YEUNG RECEIVED HIS SPECIALTY TRAINING IN PERIODONTICS AT THE UNIVERSITY OF ADELAIDE AND RESEARCH TRAINING IN MUCOSAL IMMUNOLOGY AT THE FACULTY OF MEDICINE, UNIVERSITY OF NEWCASTLE.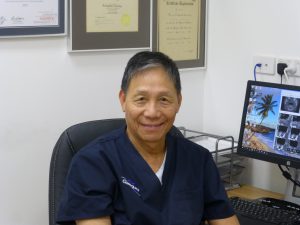 Stephen Yeung has been in specialist practice for over 20 years, and has been associated with the Faculty of Dentistry at the University of Sydney since 1986.
Professor Stephen Yeung has lectured locally, interstate and overseas, published extensively in scientific and professional journals and was winner of the Ray Williams Research prize in 1998.
He is a past Federal president of the Australian Osseointegration Society, and Australian Society of Periodontology, Stephen Yeung is a current member of numerous professional societies and organisations.
Professor Stephen Yeung is a key academic member for the University of Sydney at Westmead Hospital, Centre of Oral Health. His primary supervisory role is to assist dental postgraduate training in Periodontics and Dental Implant Surgery. His special clinical interest is in the management of Peri-implant Diseases.
STEPHEN YEUNG – PROFESSIONAL MEMBERSHIPS
OUR TEAM
LIDYA
I have extensive experience in assisting dental specialist services and aim to provide optimal care, both before and after treatment.
I am happy to answer and elaborate to clarify any queries regarding your proposed treatment and oral hygiene needs.
STEPHANIE
As Clinical Treatment Co-Ordinator, I have over 8 years dental industry experience, from general dental to oral surgery and now periodontics.
I am empathetic to patient needs and make it my priority to work with you to make your visits with gumguru as hassle free as possible.